Inside the Eye Live! 057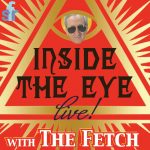 Episode 057  :  The Fetch brings us all the latest on his weekly show.
PLEASE NOTE – this is a truncated recording due to a tripped switch. Hour 3 is complete with guest Dave Gahary.
* To download this show directly as an mp3 file click the Play in new window link above.

  RSS feed for this podcast series is: https://speakfreeradio.com/feed/podcast/inside-the-eye-live